TRAIL SKIN : 6 POCKET REVOLUTIONARY SHORT
The ultimate trail short.
Extreme functionality & anatomical design.
All offer muscle support while ensuring maximum comfort & fit.
Thermoregulation and heat dissipation is provided through our unique "Skin-Mesh" rear panels.
Their storage is logical & adapted to natural gestures. Our pockets offer practical, immediate & secure access: carry textiles, accessories, smartphone & all hydration & nutritional needs.
The Trail Skin becomes an essential tool to every training run or race.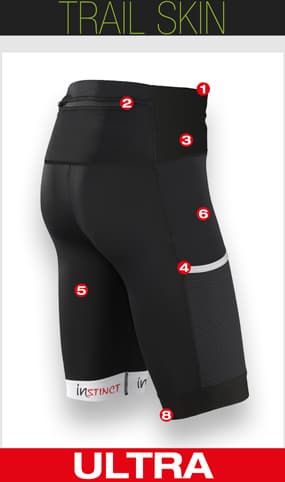 1 – Form fitted waist with drawstring cord
2 – 1 zippered back pocket +500ml
3 – 2 front waist pockets +250ml
4 – 2 side pockets +350ml fast access
5 – Skin Mesh (rear): unique breathable Mesh-Lycra for heat dissipation
6 – Power-Lycra (front): non compressive while ensuring muscle support
8 – Large anti-slip band
Features: Power-Lycra 225g (front) / Skin-Mesh 185g(rear) / Ultra R-Mesh 120g (pockets) / Antimicrobial / YKK® auto lock zipper
Made in Italy